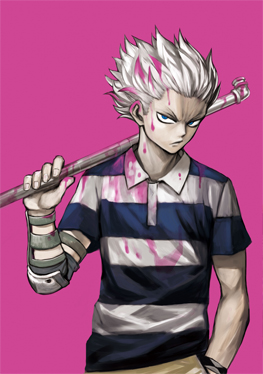 2nd DVD/BD Volume Release Information!Edit
(Information originally made available 8.1.13)
Release Date: October 25th 2013
Episodes Included: Episode 3 & 4
Limited Edition of Volume 2 Includes:
An original full-color picture illustrated by mangaka Kodama Yuuki
The 2nd Drama CD, featuring the voice actors of Staz, Wolf, and more.
"The Third-Eye Cafe Roundtable" freetalk
A box cover featuring Wolf, drawn by Kodama Yuuki. (part  seen to right)
A cover jacket drawn with the character designs of Kenji Fujisaki
End card illustrations by Kodama Yuuki and Oshikiri Iotus
Creditless Ending
Audio commentary by the cast
More info on the offers can be found on the website here :)
Ad blocker interference detected!
Wikia is a free-to-use site that makes money from advertising. We have a modified experience for viewers using ad blockers

Wikia is not accessible if you've made further modifications. Remove the custom ad blocker rule(s) and the page will load as expected.