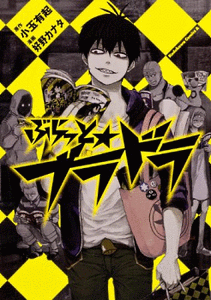 Bloody Brat Manga
Edit
"Bloody Brat" is a spin-off manga for the Blood Lad series. Kodama Yuuki, the creator of the Blood Lad series, wrote this spin-off, while the semi-grand prize winner of the Kadokawa Rookie Awards (2011), Kanata Yoshino, drew the art. Additionally, Kanata Yoshino provided illustrations for the Blood Lad novel . The manga features short stories and 4-panel manga, and was originaly released in Japan in September of 2012. It has been published in Germany and the US.
Ad blocker interference detected!
Wikia is a free-to-use site that makes money from advertising. We have a modified experience for viewers using ad blockers

Wikia is not accessible if you've made further modifications. Remove the custom ad blocker rule(s) and the page will load as expected.