Kodama Yuuki Works on New Manga, Guren 5Edit
(sorry I didnt catch this news sooner!)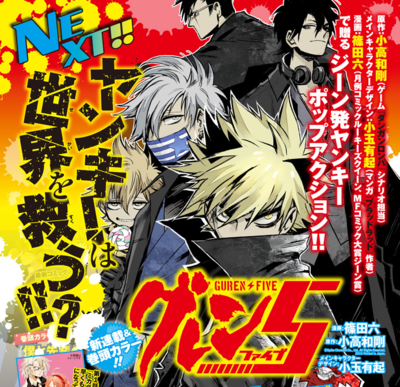 The September issue of Media Factory's Comice Gene announced a new manga called Guren 5 will launch in the next issue on September 15th. The scenario writer of the Danganronpa game created Guren 5's story, and Kodama Yuuki, creator of Blood Lad, worked to design the main characters. Riku Shinoda, a winner of the Monthly Comic Rookie Queen award and MF Comic Prizes' Gene Prise, is drawing the actual art.
The tagline of the manga is, "Delinquents will save the world!!?"
(Source )
Ad blocker interference detected!
Wikia is a free-to-use site that makes money from advertising. We have a modified experience for viewers using ad blockers

Wikia is not accessible if you've made further modifications. Remove the custom ad blocker rule(s) and the page will load as expected.