Anime Song Information Edit
Opening Song Performance:Edit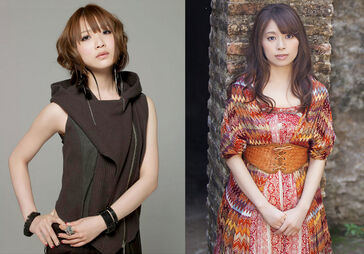 ViVid - May'nEdit
Ending Song Performance: Edit
Bloody Holic - Yuuka NanriEdit
As first mentioned in this article when the Blood Lad PV first aired, May'n will perform the opening theme for Blood Lad, as heard in the PV. The song is called ViViD, and will be available for sale on July 24th, according to May'n's official site. The ending song, Bloody Holic, will be performed by Yuuka Nanri, and will be released August 7th, according to Blood Lad's official site.
May'n has done a number of songs for popular series, including Accel World, Btooom!, Hidan no Aria, Macross Frontier, Phi-Brain, and Sengoku Basara. Some of Yuuka Nanri's song performance include those for .//hack,  Mobile Suit Gundam, and Tsubasa: Resevoir Chronicle. She has also voice many characters in anime, including Gunslinger Girl, Sakamichi no Apollon, School Rumble, and Yu-Gi-Oh! Zexal.
If you would like a biography of the two singers thats not wikipedia, please read one here (you will need google translate) 
(Sources: http://www.animenewsnetwork.com/encyclopedia/people.php?id=12814, http://www.animenewsnetwork.com/encyclopedia/people.php?id=70825, http://bloodlad.jp/ , http://mayn.jp/)
Ad blocker interference detected!
Wikia is a free-to-use site that makes money from advertising. We have a modified experience for viewers using ad blockers

Wikia is not accessible if you've made further modifications. Remove the custom ad blocker rule(s) and the page will load as expected.