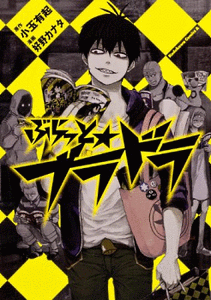 Yen Press Licenses Spin-Off "Bloody Brat"Edit
Today on 8/13/13, Yen Press officially confirmed it will release the manga series "Bloody Brat", a spin-off of the Blood Lad series. The manga is slated to ship on March 25th, 2014.
Story Behind Bloody Brat:Edit
Kodama Yuuki, the creator of the Blood Lad series, wrote this spin-off, while the semi-grand prize winner of the Kadokawa Rookie Awards (2011), Kanata Yoshino, drew the art. Additinally, Kanata Yoshino also provided illustrations for the Blood Lad novel. The manga features short stories and 4-panel manga, and was originaly released in Japan in September of 2012.
Ad blocker interference detected!
Wikia is a free-to-use site that makes money from advertising. We have a modified experience for viewers using ad blockers

Wikia is not accessible if you've made further modifications. Remove the custom ad blocker rule(s) and the page will load as expected.